Overview
Once your Bookings calendar is created you will want to add your staff with details such as their phone number and email address, as well as scheduling the time they will be available. Employees will need time off when they are sick, on vacation, or unavailable for other reasons. You can schedule time off from the Microsoft Bookings calendar, to show when an employee will be unavailable for bookings during a specific time.
Procedures
Adding Staff to Bookings
This section is where you create and manage your staff list which includes details such as name, phone number, and email address as well as set their working hours.
Open a calendar from the homepage.
Choose Staff from the left navigation pane.
Click Add new staff and the Add staff screen appears.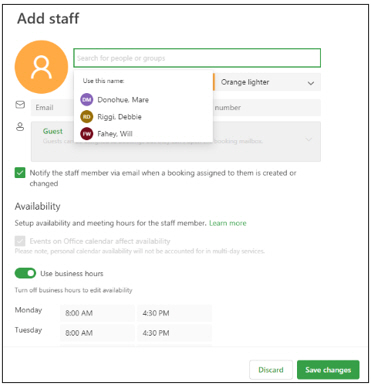 [Add staff dialog box]
4. Begin typing the first staff members name in the search area and select them from the list below. The other fields will automatically populate. NOTE: Manually complete email address and other information for those outside your organization.
5. Select a role for each staff member.
Staff Roles
Administrator - can edit all settings, add and remove staff, and create, edit, and delete bookings. This role should be assigned to whoever you want to manage the calendar for everyone. This person will be able to change appointments, update availability and time off, update services, etc.
Scheduler – manages bookings on the calendar and customer details. Read-only access to settings, staff and services.
Team member – manages bookings on their own calendar and their availability in the booking mailbox
Viewer – Can see all bookings on the calendar, but can not modify or delete them. Read-only access to settings.
Guest – assigned to bookings, but they can not open the booking mailbox.
6. Select Notify the staff via email when a booking assigned to them is created or changed so staff receives emails.
7. Select Events on Office calendar affect availability if you want the free/busy information from staff members calendars to impact availability for bookings services through Bookings. NOTE: this is strongly recommended to be selected and is the default to avoid double-booking.
8. Use business hours to set all bookable times for your staff using the Business hours set on the Business Information page. OR if you deselect this, a staff member who only works certain days and hours can make the changes.
NOTE: Bookings supports up to 100 staff members in a Bookings Calendar
9. Click Save changes.
Scheduling Business Closures, Time Off and Vacation Time
On occasion, you will want to close your business for holidays or team events, or when your staff need time of for vacation, or unavailable unexpectedly or when they are sick. You can indicate these changes from any calendar in Bookings using the "Add time off" feature. Once the business reopens or employees return to work, everyone will be listed on the booking page according to their established work hours.
Business Closure
While in a calendar, select Add time off located in the toolbar at the top of the calendar.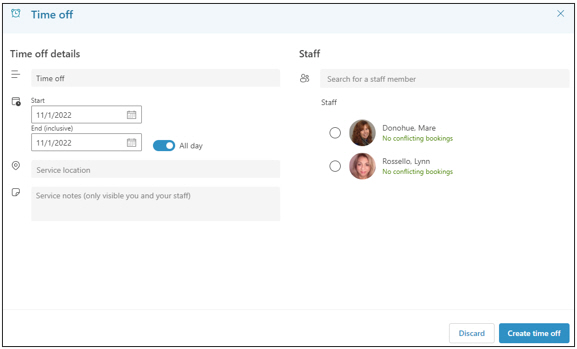 [Time off dialog box]
2. Complete the details, including title, start, and end date and times, location and extra notes.
3. Select Add day event.
4. Select all staff members.
5. Click Create time off.
When a customer attempts to schedule an appointment on a day the office is closed, they'll see a message on the booking page that there is no availability.

[Date dialog box stating we have no availability on this date. Please choose another one.]
Time Off
While in a calendar, select Add time off located in the toolbar at the top of the calendar.
Complete the details, including title, start, and end date and times, location and extra notes.
Select the staff member or members who are taking the time off.
Click Create time off.
References/Links
None at this time.
Last Reviewed: 15-Mar-2023