Overview
A spreadsheet can be imported into a notebook while using the OneNote desktop app. Once you close the desktop app that information is synced and can be accessed through the OneNote web app.
Procedures
Excel Spreadsheet in OneNote
With a notebook opened on the screen using the OneNote desktop app, click the Insert tab.
Click Spreadsheet and choose Existing Excel Spreadsheet or New Excel Spreadsheet.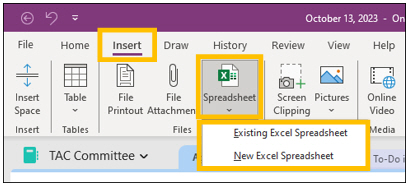 [Insert tab and Spreadsheet with options highlighted]
3. If you choose Existing Excel Spreadsheet, and then double-click the Excel file an Insert File dialog box appears. Attach File – Adds the spreadsheet as an attachment to the notebook. Insert Spreadsheet – Inserts the spreadsheet as an image in the notebook.

[Insert File dialog box showing options Attach File and Insert Spreadsheet]
References/Links
Add an Excel spreadsheet to a page
Last Reviewed: 17-Nov-2023