Overview
What is ITSSC?
The IT Services and Support Center (ITSSC) is a self-service support center that allows you to search for knowledge base articles to assist you in your IT questions.  You can move around the ITSSC by searching or browsing categories and sections.
This Center has been established to provide a centralized location for IT information and requesting assistance.  This system will improve our efficiency, communication and collaboration to provide an improved support experience resolving your IT inquires.
As of August 2018, we have released the Support Request form used to request IT assistance.  Configuration is continuing to encompass all of the departments within the Division of the Chief Information Office and updates will be announced.  If you have any questions or feedback on ITSSC please contact Mare Donohue, Manager of Help Desk Services via email:  donohm2@rpi.edu or phone: 518.276.6723
Procedures
Signing in
If you have your RCS credentials, you should sign in, but if you don't you can submit a request without signing in.
Using your RCS credentials:
In the upper right corner of the ITSSC screen, click "Sign in"
Login with your RCS username and password
If you do not have RCS credentials:
Click Submit a request located at the top right corner of the page.
Searching
Search Bar
Type a single word, multiple words or add "quotes" for an exact phrase. Use these methods for searching and then press Enter to view complete results.
Single word example: printing
Multiple words example: printing plotting
Exact phrase example: "printing charges"
Click once to open an article that appears under the "Search results"
Category Search
Categories are the buttons that appear as you scroll down the ITSSC page.

 (Image of words Category, Sections, Articles vertically)
Click once on a Category button to view the Sections.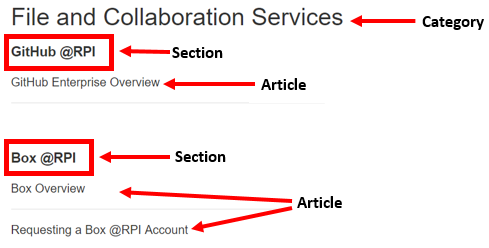 (Image of arrows pointing to what is a category, section and article)
2. Click once to open an Article.
Promoted articles and Recent activity
Scroll to the bottom of the ITSSC page to view the Promoted articles (articles that are search on most often) and Recent articles (most recently searched articles).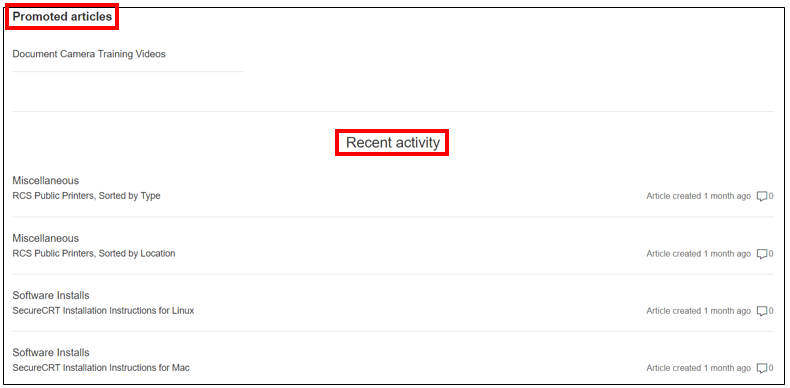 (Image showing one promoted article and four articles under "Recent activity")
Submit a Request
Technology support requests are submitted using the Support Request form.
Click Submit a request located at the top right corner of the page.
Select a request category.
Complete the fields in the form. Those with an * are required fields.
Click Submit.
Your account
Once signed into your account, you can view your activities, profile, search the knowledge base center or submit a request.
To view your Activities, profile or to sign out:
Click the down arrow to the right of your name located in the upper right corner of the ITSSC window.
Make a selection.
My activities
The "My activities" page allows you to view and modify all your current and past requests.

(Image of your activities page showing a solved request to change my RCS password)
My profile
Your name, phone and email are set automatically. You cannot change them.
Sign out
Click the drop down arrow to the right of your name and choose "Sign out"
Unable to Submit a Request
Please contact the Help Desk email: helpdesk@rpi.edu or 518.276.7777
Refer to this page for current hours of operation: http://support.rpi.edu