Overview
How to configure your IMAP email on client application.
Details
1. Go to Control Panel
2. Click Mail
3. Click Email Accounts...
4. Click New... - Manual setup or additional server types - POP or IMAP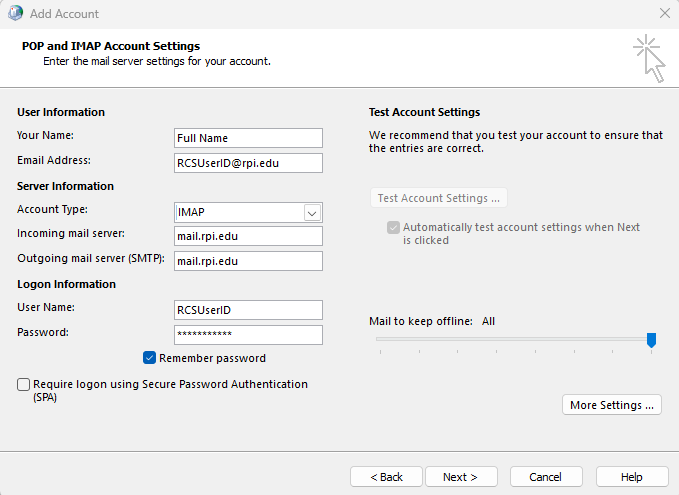 [Add Account Screen]
6. Click More Settings ..., Outgoing Server
7. Check My Outgoing server (SMTP) requires authentication.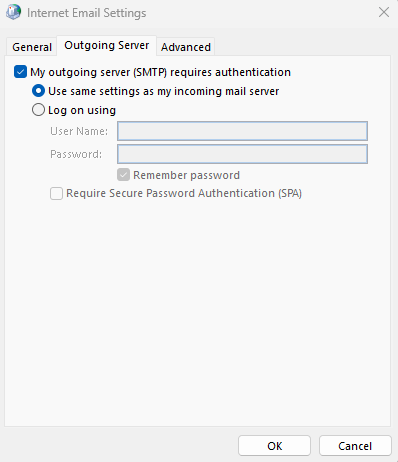 [Internet Email Settings Outgoing Server]
8. Click Advanced Tab
9. Set Incoming server to 143 and Outgoing Server to 587
10. Set Encrypted Connection for both Incoming and Outgoing server to Auto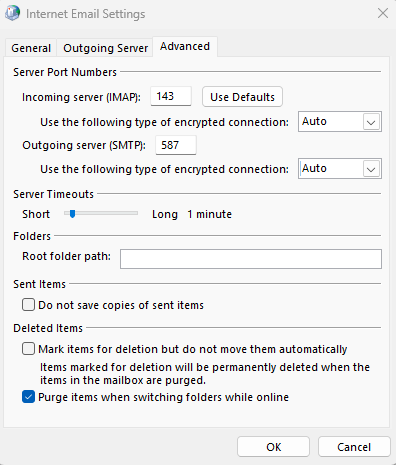 [Internet Email Settings Advanced Tab]
11. Click Ok
12. Click Next. The windows will then perform a connection to the IMAP server and send a test message. If successful, you'll see completed for both options.
13. Click Finish
NOTE: At times the above settings do not stick and you will need to go back in and check and possibly redo the port settings for the incoming and outgoing servers and resave.
Recent security protocols implemented by Rensselaer will not allow the configuration of Gmail with your RPI email. Sending email that is smtp-auth, requires two-factor authentication and Gmail does not support Duo authentication. Also, sharing the RCS password with anyone, which this configuration does ultimately share with Gmail, is a violation of conditions of use.
Last Reviewed: 02-Feb-2023