Overview
How to set up a new exchange email account in Outlook 2010/2013
Procedure
1. Open Microsoft Outlook 2010 or 2013.
If you are not prompted to create an account, click the "File" tab.
2. Click "Account Settings" and select "Account Settings" from the pull-down list.
3. Under the "Email" tab, click "New".
4. Select "E-mail account" and click "Next".
5. Click to select "Manually configure server settings or additional server types" and then click "Next".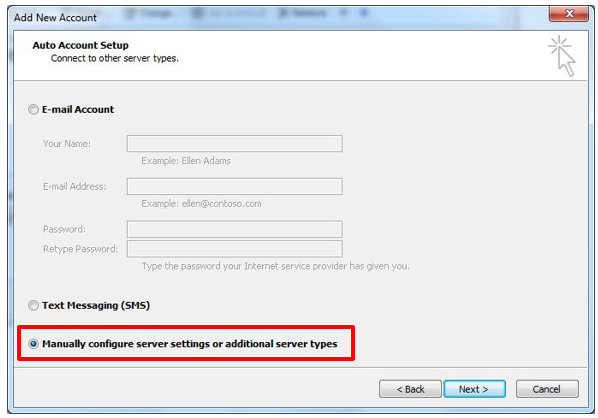 6. Click to select "Microsoft Exchange or Compatible Service" and click "Next".
7. The server is "exchange.rpi.edu", and you will want to un-check the box next to "Use Cached Exchange Mode".
8. Enter your email address and the server should check that it is valid.  It may change the server address when it does this – that is to be expected.
When you are prompted to login, type "win\RCSuserid" (substitute in your RCS userid) and password.