Overview
Attendance Overview
For each class meeting, you can record whether a student is present, late, absent or excused. You can apply formulas and use attendance as part of students' overall grades, just as you can for an assignment grade column.
Details
Access the Attendance Feature
To access the Attendance tool, go to the Control Panel > Course Tools > Attendance. When you first open attendance, the Settings panel opens. Here you can change the grading schema and grade unit to Points, Letter or Percentage.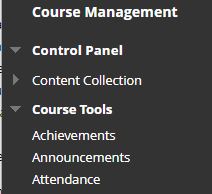 [Course Management dialog box showing a list of  words starting with Control Panel, Content Collection and Course Tools, Achievements, Announcements and Attendance]
There are two views available: Meeting and Overall.
Meeting view, you can mark each student's attendance or assign one status to all students utilizing the menu header. Your work is saved as you go. Use the Previous Meeting and Next Meeting arrows to navigate between meetings.
In Overall view, you can view attendance history and class statistics. You can mark each student individually or select the Today, Yesterday or a specific Date. You can edit individual records after you set the status for all students.
To access a specific date, click the date header to open a menu. You can clear marks, exempt, delete or edit the meeting.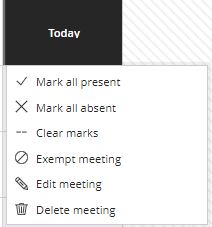 [Date header dialog box showing a list of options starting with Mark all present, Mark all absent, Clear Marks, Exempt meeting, Edit meeting and Delete meeting]
If you select Edit meeting, this opens a calendar where you can change the date or go to a specific date.
Overall view displays each student's current attendance grade. However, the field isn't editable. Student's accumulative attendance scores are based on 100 points. Select a student's name to view a summary of their overall attendance record. For example: you can see how many classes the student attended or missed. The Overall view is read-only.
View Attendance in the Grade Center
Once Attendance has been accessed via the Course Tools, you can view Attendance in the Grade Center. The overall attendance grade for each student is listed in a single column labeled Attendance. You can perform most of the same actions on the attendance column, such as, display name and change settings.
Caution: Though you can edit student's overall attendance grades in the Grade Center, no changes appear for any class meetings you've already marked. For instance, if a student was present for all class meetings and you edit the student's attendance grade in the Grade Center, from 100 to 75, 75 becomes the overall attendance grade. When you open Attendance, 75 appears as the overall grade, yet the student was present for all class meetings. It is recommended you make changes to individual class meetings to change a student's overall attendance score.
Mobile and tablet views
You can use your mobile phone or tablet to mark attendance while you stand in front of your class. There is a compact view of attendance that displays one class meeting at a time. At the top of the screen, you can select a status and mark all students in one action, or you can individually mark some students one status at a time. Students are grouped based on the status you assign. Unmarked students move to the top of the list.
Student View of attendance
Students can view their attendance from their My Grades.