To work with the Course Menu, make sure you have Edit Mode ON which is located in the upper right-hand corner of your course.
To add a Course Menu item, point to the plus sign on the Course Menu Toolbar.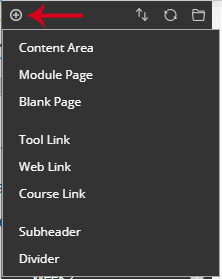 This will display the pop-out menu showing the options available to add to the Course Menu. Content Area, Module Page, Blank Page.
Scroll to and click the area/page you want to add. For example: Content Area.
The Add Content Area window will appear. Enter a Name for the content area in the Name field. Click on the check box Available to Users. Click Submit.