Overview
Procedures on how to add a Content Area, Module Page or Blank Page to the course menu.
Procedures
To work with the Course Menu, make sure you have Edit Mode ON which is located in the upper right-hand corner of your course.
1. To add a Course Menu item, point to the plus sign on the Course Menu Toolbar.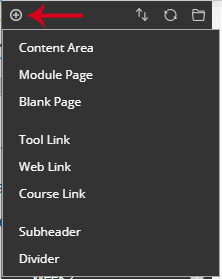 This will display the pop-out menu showing the options available to add to the Course Menu. Content Area, Module Page, Blank Page.
2. Scroll to and click the area/page you want to add. For example: Content Area.
3. The Add Content Area window will appear. Enter a Name for the content area in the Name field. Click on the check box Available to Users. Click Submit.
Last Reviewed: 05-Mar-2020