Overview
The Course Menu is the cornerstone for organization and navigation of your course for students to access tools and materials.
Procedures
The course menu is the panel on the left-side of the course window. It is comprised of two general areas.
1. The top area under the course name and course number has links to all parts of the course that you want the students to be able to access. You can add Content Areas, Web Links, etc to the menu to assist the students in navigating your course.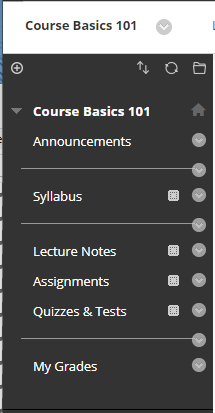 2. The bottom area labeled Course Management Control Panel section is for Instructors and Teaching Assistants (TA's) only. This is the behind-the-scenes controls of the course.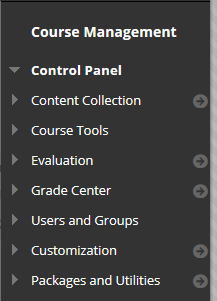 Instructors may change the Course Menu view, add additional links, and reorder and manage existing links. A course menu link, if set to Show link, is visible to students to access.
Last Review: 06-Mar-2020