Overview
From the Box home page, you can open a folder, view a document, rename, move, print, or open the document in the application it was created in.
Procedures or Details
Opening a Folder
Click once on the folder name.


[folder name]
The folder opens showing any files stored in this folder.
Upload a File or Folder
While in Box, while uploading a file/folder, open the folder you would like the file/folder to be uploaded to, click "Upload" and then choose File or Folder.
Locate the file or folder from your computer and then click "Open"
NOTE: Hold the Ctrl key and click each file to select multiple files to upload at one time. Be aware that you can only select one folder at a time to upload.
At the bottom of the screen, you will see a bar move until the document upload is complete. A message appears at the top to let you know that the file uploaded successfully to Box.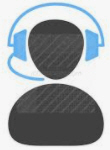 Training Video: Uploading files or folders (percipio)
[Headset icon]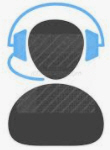 Training Video: Managing your multimedia files (percipio)
[Headset icon]
Folder Features
While in a folder, the page feature will appear in the upper and lower right corner of the Box window if you have more than one page of folders/files stored in that folder.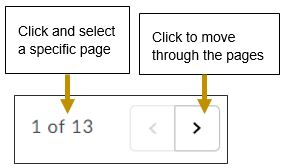 [Arrow pointing to 1 of 13 stating click and select a specific page and arrow pointing to a right arrow stating click to move through the pages]
Rename/Download/Move or Copy/Collaborators/Settings
Anytime see the icon with the three dots ". . ." this is called the ellipses (. . .) different features appear depending on where you are in the Box window.
With a folder open, click the ellipses (. . .) in the upper right corner of the box window
Choose to:
Rename - Change the name of the folder
Download – Creates a zip file of all the folders/files into a Zip file
Move or Copy – Move or Copy a folder
Collaborators – Lists who have rights to this folder
Settings – Click this link to learn more about Box settings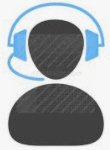 Training Video: Moving and copying files into folders (percipio)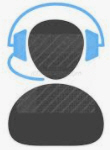 Training Video: Organizing your folders (percipio)
Folder Settings
The folder settings allow you to modify and control actions for that specific folder. The folder settings information part of this manual was copied from the link below.
NOTE:
Folder settings are inherited by sub-folders, and cannot be 'undone' at a sub-folder level.
Some settings can only be modified by folder owners and co-owners - check below
To open Settings for a folder:
Click once on the folder name, and then choose the ellipses (. . .) located on the upper right corner of the screen.
Choose "Settings"
All the settings appear for that specific folder.
Review the Setting options.
https://support.box.com/hc/en-us/articles/360043696014-Understanding-Box-Folder-Settings
Once you are done updating the Folder settings,
Click "Save Changes" located in the upper right corner of the screen.
Working with Folders
When should I invite someone as a collaborator verses sending them a shared Link?
Collaborator: Invite someone into a folder as a collaborator if you're working with them on an ongoing basis, and they need persistent access to the content you're sharing.
Shared link: Send someone a shared link to a folder or file if you merely need to provide quick, read-only access (much in the way you'd send an email attachment). Your recipient can continue to reference that link for the most up-to-date version of the content.
https://community.box.com/t5/Get-Started-Guide-for-New-Users/Collaborate-on-Files/ta-p/296
Share a Folder
You can share a folder or send a link to that folder to anyone that has a Box account.
Click Share located to the right of a folder.
Choose Invite Collaborators
Invite - Start typing the person's name or email address (If they appear in the list below they have a Box account)
Invitee Permissions – Choose permission level for the Invitee.
https://support.box.com/hc/en-us/articles/360044196413-Understanding-Collaborator-Permission-Levels
5. Type a Personal Message (optional)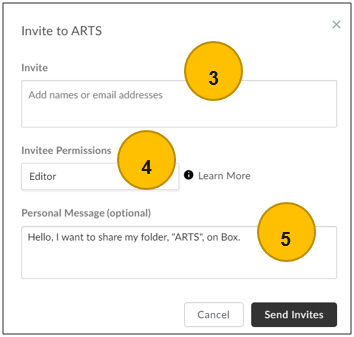 [Invite to a folder dialog box, showing the following areas to select, Invite, Invitee Permissions and Personal Message (optional)]
6. Click Send Invites
Training Video: Creating and deleting shared folders (percipio)
Understanding Folder Permissions
NOTE: Box uses a 'waterfall" design to explain their permission levels in which individuals only have access to the folder they are invited into and any subfolders beneath it. Someone can also be invited to individual files.
Video on Understanding folder permissions - https://community.box.com/t5/Collaborate-By-Inviting-Others/Understanding-Folder-Permissions/ta-p/50256
References/Links
https://support.box.com/hc/en-us/articles/360043696014-Understanding-Box-Folder-Settings

https://support.box.com/hc/en-us/articles/360044196633-Upload-to-Box-With-the-File-Browser

https://support.box.com/hc/en-us/articles/360044195193-Collaborate-on-Files
Last Reviewed: 29-Sep-2020