Overview
Once your Exchange email account has been migrated to Exchange Online, your mobile device will no longer receive email via Boxer. The recommended way to receive email on your mobile device is to use Microsoft Outlook for Android.
Email administrators will remotely initiate the process of removing Boxer and installing Outlook for Android while your email account is being migrated.
Once your email account has been migrated you will need to set up Outlook on your mobile device.
Note: Connecting to the VPN to access your email will no longer be needed.
Procedures
On your Android device, tap the Outlook icon on your home screen or under your work profile to open the app
Tap "Add Account" on the welcome screen
When prompted, enter your RPI email address (rcsid@rpi.edu) and tap "Continue".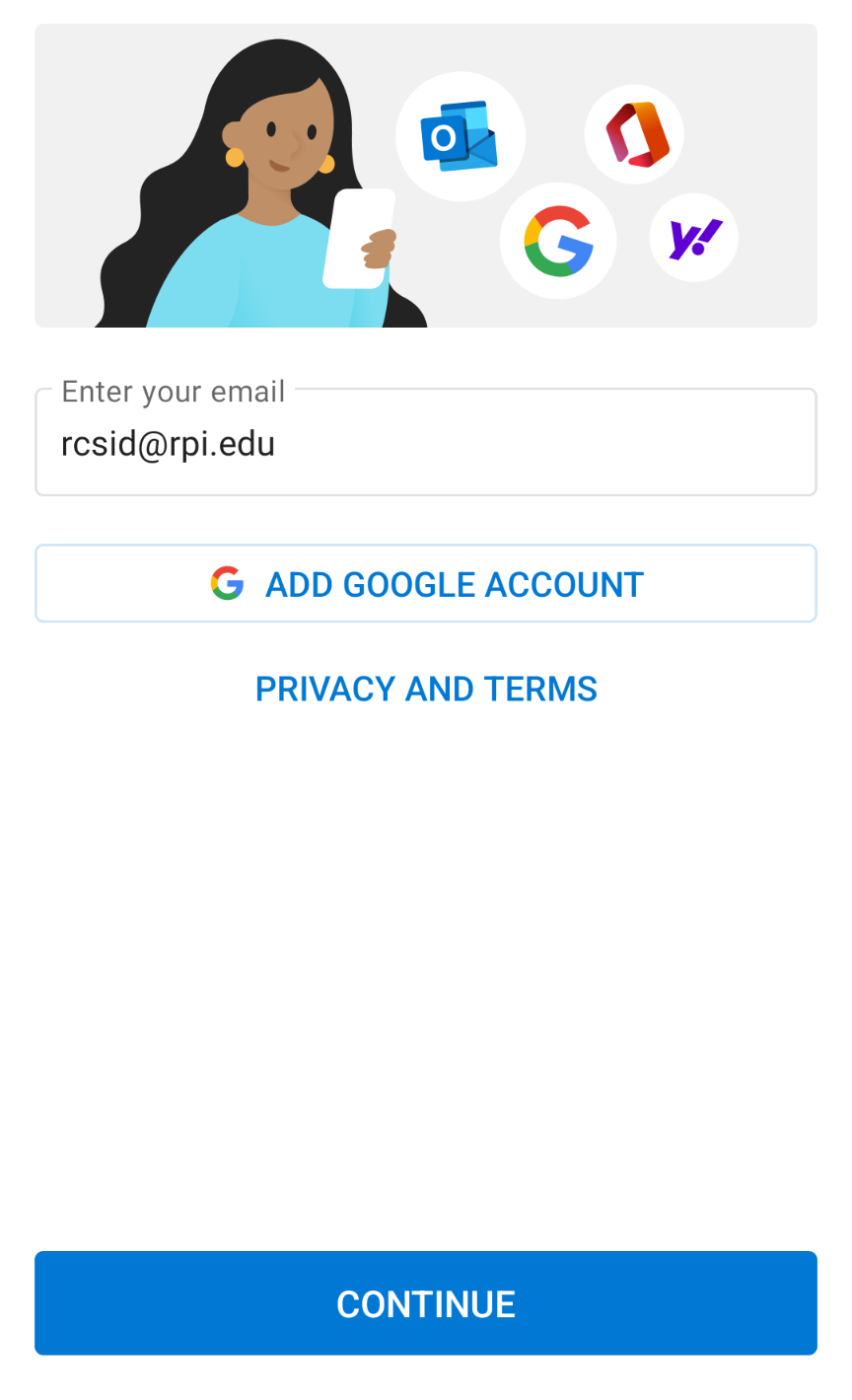 [Continue button highlighted on the Enter your email screen]
4. When prompted, enter your RCS password to sign in to Office 365.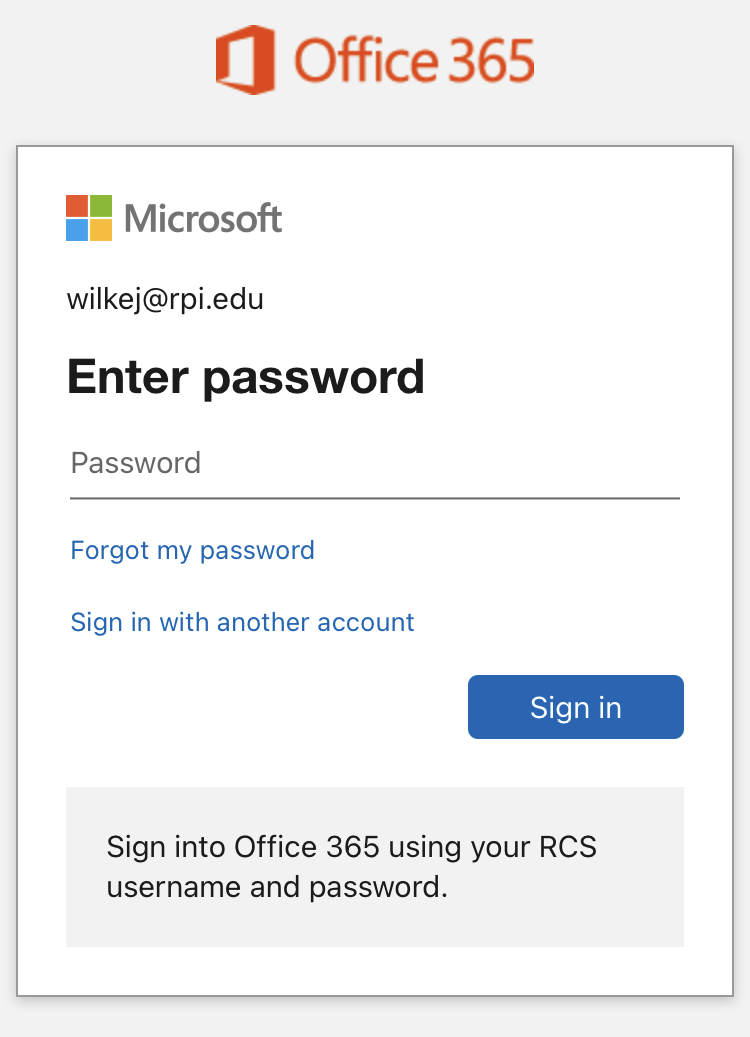 [Enter password screen]
You may be prompted to verify your identity. By default, a push will be sent to the Duo app on your smartphone.
If you do not have Duo Multi-Factor Authentication configured on your smartphone, you may use your usual alternative method such as a hardware token by tapping "Other options".
Please refer to the article Duo Mobile - Multi-Factor Authentication to enroll your device or configure an alternate authentication method.
Tap "Activate" when asked to make Outlook a device administrator.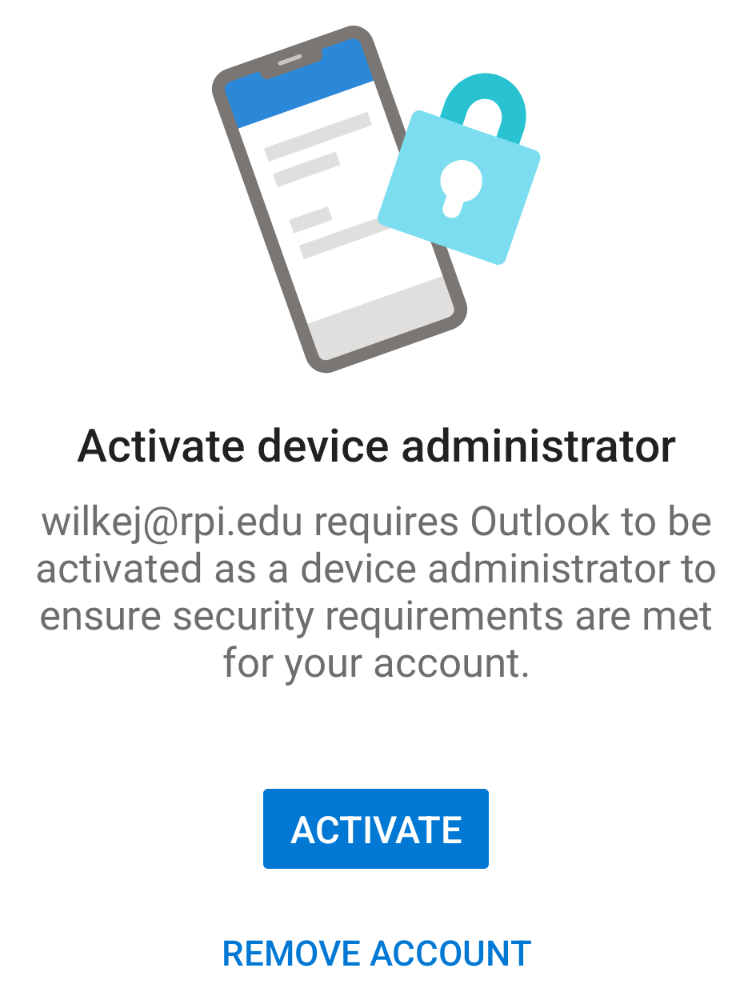 [Activate button selected on Activate device administrator screen]
On the next screen, tap "Activate this device admin app".
Outlook for Android is now configured and email should appear shortly.
Adding a Signature
Setup signature:
Open Outlook
Tap on Office icon upper left
Tap Settings wheel in bottom left
Scroll down to Signature and tap
Enter Signature information
After entering tap check in upper right
Tap back arrow in upper left
References/Links
None at this time.
Last Reviewed: 03-Feb-2022