Overview
After you log into Planner, you can start a new plan, see plans that were pinned, all previously created plans from the Hub view.
Procedures
Planner Hub view

[Planner Hub view highlighting Hub and previously created Plans]
Create a New Plan
Click + New plan located in the upper corner of the Planner window.
Choose a New Blank Plan or one of the pre-defined templates.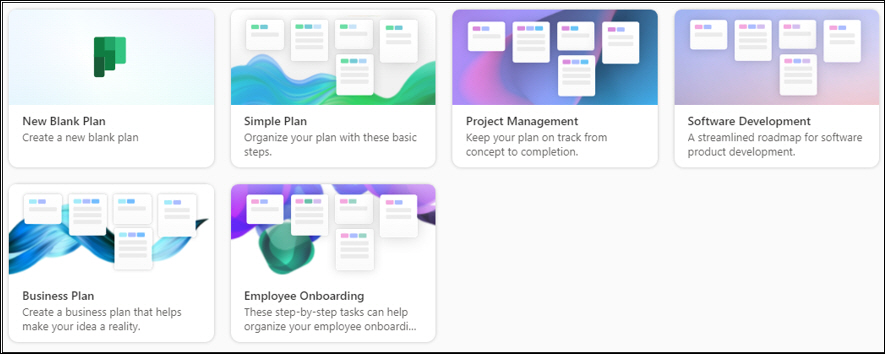 [Template screen showing New Blank Plan and other plan templates]
3. Enter a Plan title and then choose Add an existing group (optional) for the plan.
4. Click Create.
A New Plan layout appears.

[New plan layout screen showing a-o features highlighted]
a. New Plan - Starts a new plan.
b. Hub - A page that views all of your plans.



[Hub view highlighting all previously created plans]
c. Assigned to me - Shows tasks assigned to you.
d. All - Displays a list of plans that you have recently viewed.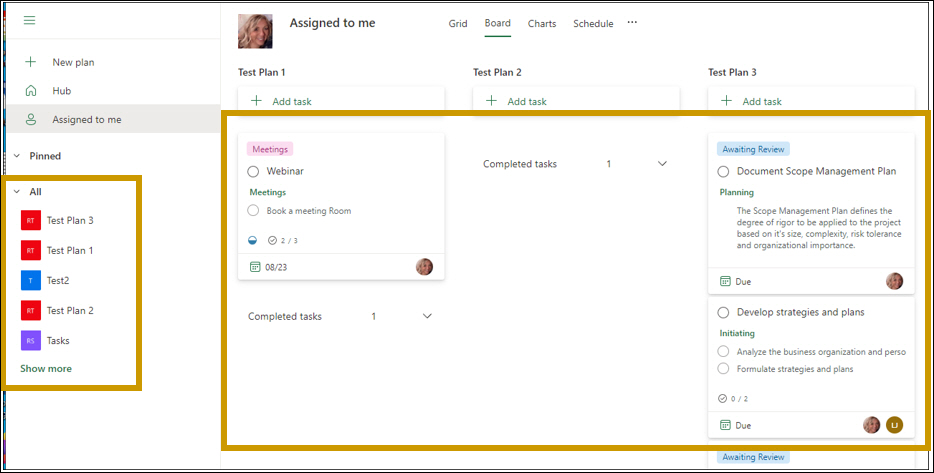 [Assigned to me view highlighting all previously created plans on the left and all the plans under the Board tab]
e. Buckets – View and create buckets, i.e. workstreams, project phases or topics. Buckets allow you to group and organize related tasks. Examples of buckets can be: Determine the scope, Analysis/software, Design, Development, Training.
f. Add Tasks - Create a new task, assign a task and add a due date for a task.

[Board view highlighting four buckets and the add task option under each bucket]
Example of an Email notification letting you know you have late task(s) on a project.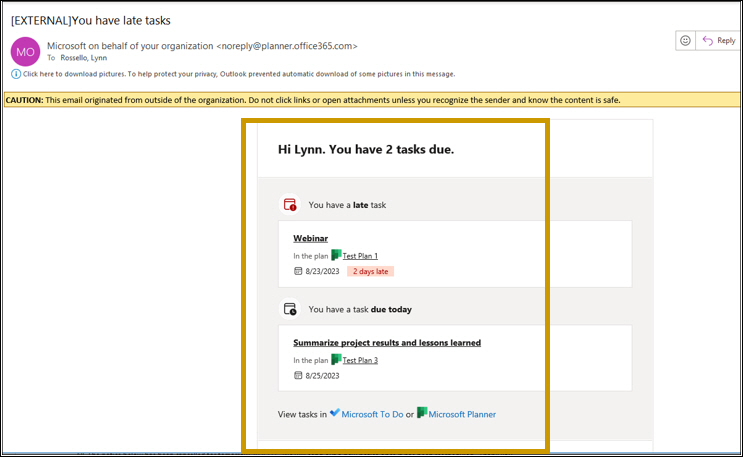 [Planner task email notification highlighting the tasks]
g. Add new bucket - Create a new bucket for your plan. Click the Add new bucket option located to the right of the bucket name line.
[Planner window highlighting the Add new bucket option on the right]
h. Grid - Shows your tasks in a convenient list using a grid where assignments, bucket, dates and other settings can changed by clicking to the right of each task field.

[Grid view showing all tasks in a list format]
i. Board – Default view for Planner. Where you can view plan buckets, filter tasks or changed how tasks are grouped.

[Board view highlighting all buckets and tasks for each bucket]
j. Charts – View the plan in a chart format.
k. Schedule – View the plan in a calendar format.
l. More options – Shows additional options and plan settings. NOTE: The Notebook option opens OneNote.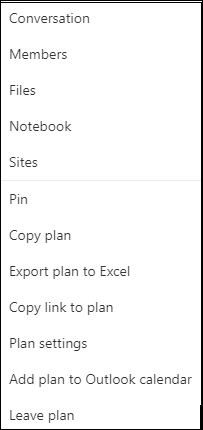 [List of additional options under More options]
m. Members - View and add members to the plan.
n. Filter - Filter the plan by due date, assignment, bucket, etc.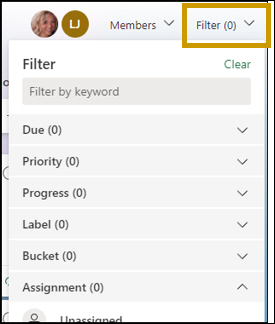 [Filter options highlighted showing several options to filter on]
o. Group by Bucket - Group by Assigned to, Progress, Due Date, Labels, and Priority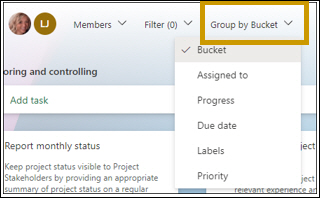 [Group by Bucket option highlighted showing a list of options]
Delete a Plan
Open the plan that you want to delete.
Click the more options, three dots to the far right of the Plan name and choose Plan settings.
Click Delete this plan located at the bottom left of the Plan settings window.
The Delete plan dialog box appears letting you know that the plan and tasks will be permanently deleted.
4. Choose Delete.
References/Links
Last Reviewed: 06-Sep-2023