Overview
Handwriting notes on an iPad is vary easy using the Notes application along with the Apple Pencil. This document shows how to handwrite a note, convert to text and save this note to word.
Need a compatible Apple Pencil for your iPad
Procedures
Notes Toolbars
Top right toolbar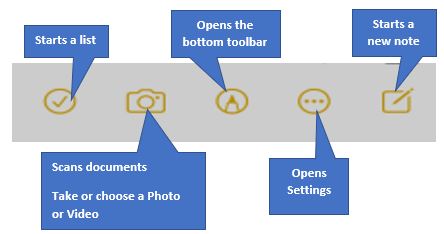 [Notes application top right toolbar]
Bottom toolbar

[Notes application bottom toolbar]
Turning the handwriting tool on:
Open the Notes app on the iPad
Click the circle with a pencil icon

[Pencil tip in a circle icon]
The toolbar below opens at the bottom of the page.
3. Tap the pen with an "A" as this will allow you to use the pencil to handwrite a note.

[Pen with an A on it icon]
4. Begin writing a new note.
Convert to Text

As you handwrite your note, the text automatically appears above where you are writing. If your Apple Pencil is set to use the Scribble feature.
Turn the Scribble feature on:
Tap the three dots icon from the bottom tool bar.
Tap Pencil Settings…
Move Scribble slider to the right
Close Pencil Setting
Send Note to Outlook
With the Note on the screen, tap the icon with the circle with the three dots from the top toolbar
Tap Send a Copy
Choose Outlook (NOTE: you can also send this note to Messages/Mail/OneNote)
Save as a Word Document

Once the note is finished, you can save this or copy this and paste into word.
Saving the note:
With the Note on the screen, tap the icon with the circle with the three dots from the top toolbar
Tap Send a Copy
Tap Save to Files
Tap On My iPad
Tap Word
Tap Save
Copy the note and paste to Word:
With the Note on the screen, tap the icon with the three dots in a circle from the top toolbar
Tap Send a Copy
Tap Copy
Open Word on your iPad
Tap and hold with your finger on the iPad window and choose Paste
Save this document in Word
How to Dictate to Word using an IPad
Open Word on the iPad
Tap the three-dots in the upper right of screen
Move the slider for Dictation to the right
A microphone appears to the bottom right corner of the Word window
Tap the microphone and begin talking
References/Links
Last Reviewed: 13-Sep-2022