Overview
This document shows how to use the features of the time sheet system in sis.rpi.edu for Non-Exempt employees.
Procedures
Go through Accessing Links in Mediasite videos before starting the training below.

Training Video - Time Sheet System
Logging in
Login to SIS with your RCS userid and password: https://sis.rpi.edu
Click the HR/Payroll Menu tab at the top.
Click Time Sheet.
Choose the dates under Pay Period and Status. (you can also see any completed pay periods)
Click the Time Sheet button.
Adding your Regular/PTO time
Under Regular Pay or PTO Scheduled/Unscheduled click Enter Hours on the day you want to enter your hours.
Enter your time ex: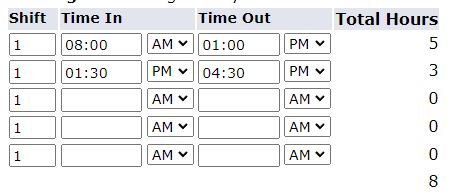 [Time In and Time Out window with times]
3. Click Save.
NOTE: When using both Regular and PTO hours for the day, the hours should add up to the hours you work in one day.

[Regular Pay and PTO Scheduled hours that add up to 80 hours]
Copying (repeating)
After entering your time on one of the days, click SAVE and then click Copy.
Select all the days you would like the same time to be copied to and then click Copy.
Click Time Sheet and you will see the time copied to those days.
Editing date/time
While viewing your Time Sheet, click on the day that has the hours to change.
Make your change and then click Save.
Click Time Sheet to see the change.
Previewing and Submitting your time sheet
Scroll to the bottom of the Time Sheet and choose Preview.
If your Time Sheet is complete, click Submit for Approval.
References/Links
Time Sheet System training video
Last Reviewed: 29-Nov-2023