Overview
How to give Delegate Access to Mail and/or Calendar in Outlook for Windows.
Procedures
Making someone my delegate
1. Click the File tab (located in the upper left corner of the Outlook screen)
2. Click Account Settings, and then click Delegate Access.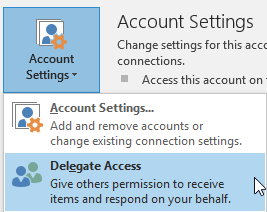 [Account Settings and Delegate Access buttons]
3. Click Add.
4. Type the last name of the person whom you want to designate as your delegate in the search bar and then double-click on the name from the Exchange - Global Address List and the name is added below.
5. Click OK - The Delegate Permissions box appears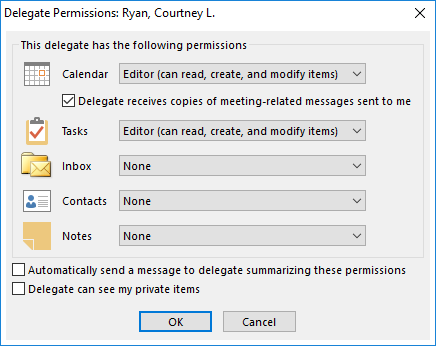 [Delegate Permissions dialog box]
6. In the Delegate Permissions dialog box, set the appropriate permissions needed.
7. To send a message to notify the delegate of the changed permissions, select the Automatically send a message to delegate summarizing these permissions check box.
​For the Delegate - adding the Outlook calendar after you have been granted access
Open your Outlook Calendar and click on the "Open Calendar" button located on the top bar (ribbon)
Choose "From Address Book"
Search for the person (who gave you the access) from the global address list and then double-click on their name.
Click OK.
References
None at this time.
Last Reviewed: 25-May-2022