Overview
Each time you edit a document and upload this document to Box there is a new version of this document. Box shows the number of saved document versions (v) located to the right of the document name.
Note: Box has a version history limit of 123 versions. Once you pass that limit, the oldest versions will be removed. Box will also no longer update the version number; only the version date will change.
Procedures
Go through Accessing Links in Mediasite videos before starting the training below.

Training Video - Box at RPI - File Properties and Version History
In Box, a version can be opened, made as current, or removed from the version history list.


[v4 is located at the end of the file name indicating there are 4 versions of this specific file]
To open a previous version of a file:
Click the version number to the right of the file name to open the Version History area.
Scroll to locate the version (date/time) and choose "Download".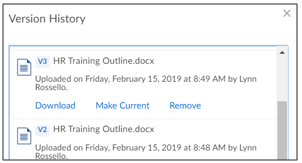 [version history box showing version 2 and version 3]
Click once on the file that appears at the bottom of the screen and the document opens.
Click "Enable Editing" if this appears at the top.
Update and/or save your document with a different name.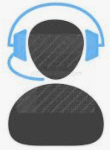 Percipio Training Video: Viewing a file's version history

References/Links
https://support.box.com/hc/en-us/articles/360043697054-Accessing-Version-History
Last Reviewed: 31-Mar-2021