Overview
The Box Home page opens to the "All Files" area where you will see two default folders that are automatically created, the "Documents" folder and the "My Outlook Attachments" folder.
Procedures or Details
Go through Accessing Links in Mediasite videos before starting the training below.

Training Video - Box at RPI - All Files View (Box Home Page)
All Files View - Home Page
IMPORTANT - DO NOT RENAME these folders, as they are route folders.
What is a route folder?
Consider a route folder as the Main folder and the folders/files within as Sub folders. If you give someone full access to the Main folder, all the folders and files under the Main folder will be accessible to that person.
NOTE: The New Folder option is only available by first opening a route folder.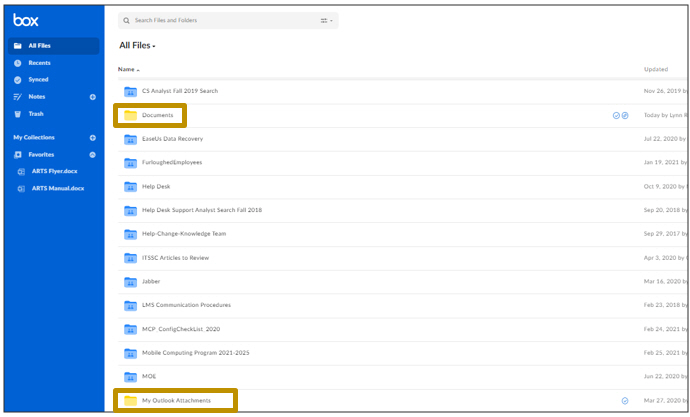 [All files view with Documents and My Outlook Attachments highlighted]
Navigation Left Side Bar

[Navigation bar features on left and definitions shown on the right]
All Files: Shows all the folders you have access to. Open these folders to see your files.
Recents: Shows the last 1000 files you have accessed, with the most recent files at the top along with files you viewed from a shared link that someone sent you.
Synced: Shows recently synced folders and documents.
Notes: You can take notes, share ideas, and collaborate in real-time with your team all within Box.
Trash: Shows recently deleted files.
My Collections: A way to organize your files and folders that you own or share.
https://support.box.com/hc/en-us/articles/360048730094-Using-Collections
https://support.box.com/hc/en-us/articles/360049489913-Collections-FAQ
Favorites: Area to access favorite files and folders.
https://community.box.com/t5/Organizing-and-Tracking-Content/Creating-and-Viewing-Favorites/ta-p/50453
Searching for Files and Folders
Click once in the "Search Files and Folders" box and begin typing a word to search.
Hit Enter.

[Box home page with Search Files and Folders and Content Filters highlighted]
References/Links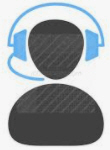 Percipio Training Video: Searching for files on Box
Box Community Link: https://support.box.com/hc/en-us/articles/360043696314-Search-for-Files-Folders-and-Content
Last Reviewed: 17-Nov-2022