Overview
When an RPI email account changes from the IMAP server to the Exchange server, those who were using the auto-complete method (typing a name in the "To..." line and the name appears) will need to delete this name from the auto-complete menu and then select this name again from the address book.
Procedures
How do you reset the nicknames and automatic completion caches in Outlook?
Open a new email message.
Type the first few characters of the nickname cache entry that you want to remove from the cache.
When the entry appears in the list of suggested names, use the UP and DOWN arrow keys on your keyboard to select the entry, and then press "X" or DELETE on your keyboard.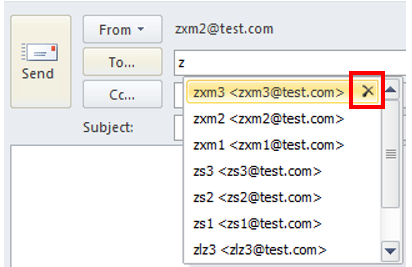 [Square around the X on one of the names listed in the auto-complete area]
4. Click "To..." and choose the person from the address book. This will reset their name in the Auto-complete.
NOTE: You only have to choose them once from the address book. This will reassign their email to the exchange server.
Last Reviewed: 02-Feb-2023