Overview
Steps for printing/plotting in Adobe Illustrator.
Procedures:
Open Adobe Illustrator
Select File - New
Change Units to Inches. Input document width/height. Click Ok
(File-New Screen to create a new document, Width should be no more than 36 Inches)
4. Click File – Place. Import image for plotting.
5. Select File, then in the popup dropdown menu click on the Print option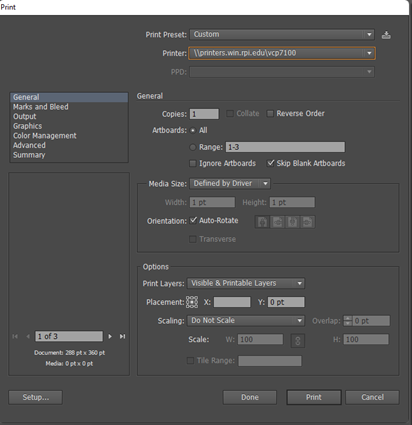 (File - Print Screen, Displays options for copies and media size)
6. Select printer/plotter you wish to print to
7. In bottom-left corner click the Setup button
8. In the Setup popup window, click on the Preferences button to get to the printer's properties
9. In Properties, you can create a custom print size format for your file. By default, you will start in the Paper/Quality section of the properties popup window. Click on the Custom... button.
10. Next, when prompted, entered the width/length that you wish for your file to be printed on. Note: plotter's maximum width is 36 inches.
11. Once you have set the layout, create a name for this printer layout and save it by clicking the Save button.
12. Click the OK button to leave the custom window, and then hit Ok button to leave the printer properties window.
13. In the Setup window, click the Print button. This will not Print the document but rather prepare it for printing. You will notice notice that the normal print window for Illustrator has made the changes that you created in the Setup window.
14. Once you are satisfied with how the print looks in preferences click on the Print button.
References
None at this time.
Last Reviewed: 22-Aug-2023