Overview
Folders can be organized in box the same way as on your computer.
Procedures
While in your Box account, click once on the "Documents" folder or any folder listed.

NOTE: the folder option will

ONLY

be accessible when you click on another folder first.

Then click "New" located in the upper right corner of the documents window and choose Folder.

[Documents window selecting New in the upper right corner and Folder below]
3. Type the name of the folder (limit of 255 characters) and then click the "Create" button, located in the lower right corner of the "Create a New Folder" dialog box.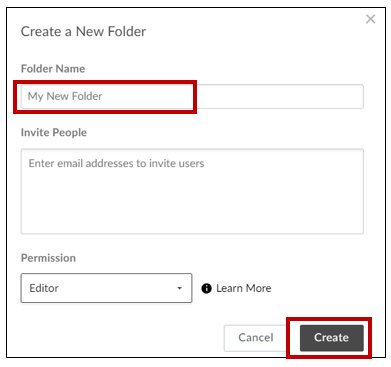 [Create a New Folder window with My New Folder in the upper left corner selected and the Create button in the lower left corner selected]
References/Links
https://community.box.com/t5/Managing-Files-and-Folders/Create-New-Files-And-Folders/ta-p/19060