Overview
The new folder option will only be available by first opening a folder. Once you open a folder, the "New" button is available and is located in the upper right corner of the Box window.
Procedures
Go through Accessing Links in Mediasite videos before starting the training below.

Training Video - Box at RPI - Create a New Folder/Rename a Folder
Before creating your folders for collaborating, think about the Folder structure. Since you are the owner of the folder, you will be setting the permissions to the folders. For example, the first folder you create think as the (Main) folder and then you will share the sub-folders to specific individuals.
While in your Box account, click once on the "Documents" folder or any folder listed.

NOTE: the folder option will

ONLY

be accessible when you click on another folder first.

Then click "New" located in the upper right corner of the documents window and choose Folder.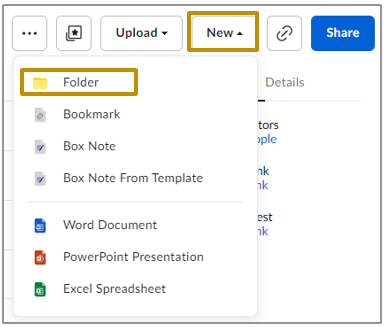 [Documents window selecting New in the upper right corner and Folder below]
3. Type the name of the folder (limit of 255 characters) and then click the "Create" button, located in the lower right corner of the "Create a New Folder" dialog box.
4. Add those who will have access to this folder by entering their email address into the "Invite Additional People" area (optional)
5. Change the permission level
6. Click "Create"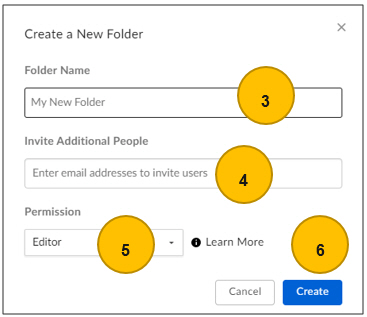 [Create a New Folder window with My New Folder in the upper left corner selected and the Create button in the lower left corner selected]
References/Links
Understanding Folder Permissions
Last Reviewed: 31-Mar-2021