Overview
Every OneNote notebook consists of sections and pages. Sections appear on the left side in the OneNote web app and they appears across the top on the OneNote desktop app.
Procedures
The Notebook Structure
A notebook contains sections, and under those sections are pages. Pages can then be divided into
subpages.

[Structure of a notebook showing a diagram of sections as the top level, pages as the second level and subpages as the third level]
The OneNote web app Screen

[OneNote web app home tab screen pointing to the Navigation and Search button]
Navigation – This button toggles to open and close the navigation pane on the left and displays your
current notebook's and where you can switch and create pages, sections, and notebooks.
Search – Search for keywords, phrases, or tags you applied within your notes across all your notebooks.
The OneNote desktop app Screen
Search is at the top and Notebook names are under the drop-down menu and section tabs are to the
right.

[OneNote desktop app home tab screen highlighting the Search and Navigation area]
Searching across Notebooks for your notes
OneNote allows you to search notes across ALL notebooks at once.
Select the magnifying glass from the left navigation pane.
Then type a word or phrase on the Search line.


[Search field and magnifying glass icon highlighted]
OneNote searches:
Typed text.
Handwritten notes.
Words shown in pictures.
3. Click the drop-down arrow to narrow the search to a section or page. OneNote highlights the search word or phrase in notes and pictures.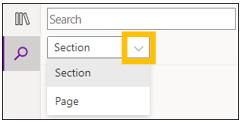 [Down arrow to the right Section highlighted]
References/Links
Last Reviewed: 15-Nov-2023