Overview
Notebooks can be open two ways:
Go to portal.office.com and click OneNote and choose from the list below.
OneDrive places notebooks in their own folders for you to choose from.
Procedures
Open a Notebook
From the OneNote web app:
Click once on one of the Notebooks listed in one of the tabs. Recent/Pinned/My notebooks/Shared with me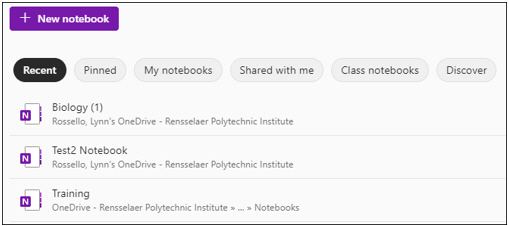 [OneNote web app recent files screen with New notebook button]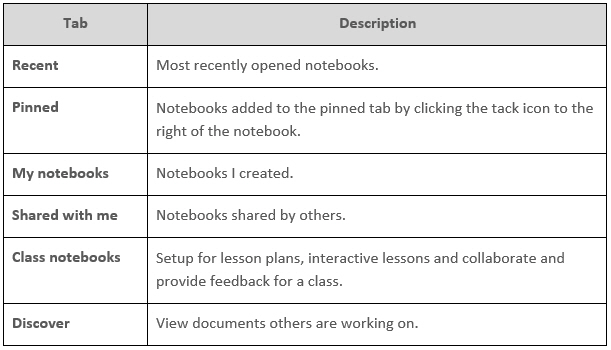 [Table showing OneNote web app recent screen with the following tabs: Recent, Pinned, My notebooks, Shared with me, Class notebooks and Discover and their descriptions]
From OneDrive:
Go to portal.office.com and search for the OneDrive app.
Locate the OneNote notebook below and double-click on the notebook name.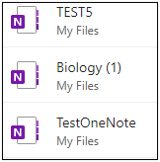 [A list of three OneDrive files]
Close a Notebook
OneNote does not have an option to close a notebook as it is automatically saved as you work in a notebook.
Open another notebook and any changes you made on the last notebook are automatically saved in OneDrive OR close the OneNote Web app and the notebook is automatically saved to OneDrive.
Delete a Notebook from OneDrive
OneNote notebooks can only be deleted through OneDrive.
OneDrive - online
Go to portal.office.com
Login with your RPI email and password.
Search and open OneDrive.
Click My files from the left navigation bar.
Locate the Notebook file from the below list or click the Notebooks folder and then click the three dots "…" to the right of the file name and choose Delete.


[three dots highlighted to the right of the notebook name]
OneDrive - File Explorer
If OneDrive has been downloaded.
Locate the file, then choose Delete from the file explorer ribbon.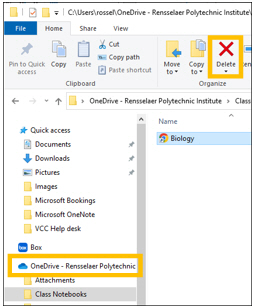 [OneDrive and the delete button highlighted in the File Explorer window]
References/Links
Delete a notebook in OneNote for the web
Last Reviewed: 15-Nov-2023