Overview
Rensselaer's VPN (Virtual Private Network) service, which is available to all students, faculty and staff, is explicitly utilized to provide a secure connection between an individual off-site and the RPI campus network, allowing remote connections to secured campus resources.
IMPORTANT: As of 05/15/2021, multi-factor authentication is required for off campus VPN access. Please go to this article as you will need to configure Duo Mobile to use VPN: Duo Mobile - Multi Factor Authentication
NOTE: the Cisco Anyconnect program for the VPN, runs on only 3 devices simultaneously.
Procedures
Installation
Please note that the link provided below and this particular VPN service will only work from off campus; users cannot connect from on campus when connected to the RPI network via hard-wire or RPI WiFi such as rpi_wpa2.
Desktop Computers/Laptops/Macs/Linux: To install the Cisco AnyConnect VPN client (SSL-based), open a Web browser window and navigate to the Cisco SSL VPN Service website <https://vpn.net.rpi.edu> (the https is needed). Then enter your RCS userID and password to authenticate to the system. Anyone using the campus VPN network, https://vpn.net.rpi.edu, should be using this Anyconnect client. There are known issues with the built-in Mac OS client.
Once you have logged in, IF you haven't configured Duo yet you will be prompted to configure Duo:
Duo Mobile - Multi Factor Authentication
Otherwise, or after the Duo is configured, the system detects your operating system and prompts you to download and install the appropriate Cisco AnyConnect client.
Follow all the prompts to install.
Mac OS - allow in Security Preferences: Once installed for Mac OS you need to approve the System Extension in Security Preferences. When prompted:
Click on Open Security Preferences
Click the lock in lower left to allow changes
Enter Mac password
Click Allow - Allow
After install please reboot your device.
Launch/open Cisco AnyConnect program:

Windows: Start - Programs - Cisco AnyConnect. You will need to enter the Server name the first time: Faculty and staff please enter: vpn.net.rpi.edu Students please enter: vpn.stu.rpi.edu
Mac: Finder - Applications - Cisco folder - Cisco Anyconnect Secure Mobility Client

Click connect
Click: How to login to VPN using Duo Multi Factor Authentication:
NOTE: If you receive a Login Failed and your RCS password may contain special characters and the Cisco VPN may not recognize them. Some characters to avoid in your password are single quote ('), slashes (/ \), and question mark (?). Please visit this link to change your password:
remember to wait at least 20 minutes after changing your password before trying to login
Mobile Devices: Download the free Cisco AnyConnect app from your mobile device app store. Set the server to vpn.net.rpi.edu and leave all other settings as default. You can not be connected to the campus WiFi when installing and using this app.
VPN Mobile Device Install and Connect - Android
VPN Mobile Device Install and Connect - iOS iPhone/iPad
Important Notices
If your VPN software recently updated it is necessary to shut down and restart your computer for the full update to complete.
If you are receiving a Login Failed -- Some Windows 8.1 machines may receive a "Failed to initialize connection subsystem" error message when trying to connect to Cisco AnyConnect. Please use the steps provided below to correct the problem.
Close the Cisco AnyConnect Window and the taskbar mini-icon.
Right-click vpnui.exe in the Cisco AnyConnect Secure Mobility Client folder. (Look for this file in C:\Program Files (x86)\Cisco\Cisco AnyConnect Secure Mobility Client\).
Click on the Run compatibility troubleshooter button.
Select Try recommended settings. (The wizard suggests Windows 8 compatibility.)
Click Test Program to open the program.
Close the program.
If still having a problem, please repeat the above steps for vpnagent.exe, the local service that supports the client user interface.
Windows Internet Connection Sharing (ICS) is not compatible with the AnyConnect VPN client. If you attempt to install it, you will receive an error on the install stating "The VPN client agent was unable to create the interprocess communication depot." Turning off ICS and reinstalling will fix the error.


If you run into a problem installing on Linux you can try this: Open this link and login with your RCS credentials to view the install file.
https://afsws.rpi.edu/AFS/dept/nss/www/downloads/sw/vpn/
Umbrella Roaming Client - information and how to uninstall:
The Umbrella Roaming Client was packaged with the Cisco AnyConnect Secure Mobility Client installation. This roaming client protects against connections to malicious destinations and command-and-control callbacks at the DNS and IP layers, no matter where the device connects to the internet, regardless of whether connected to VPN or not. You can tell if this was installed when connected to the VPN and clicking on the VPN icon in the lower right hand corner of task bar. If you see the Roaming Security - Umbrella is active as shown in the below image this indicates Umbrella is installed and running: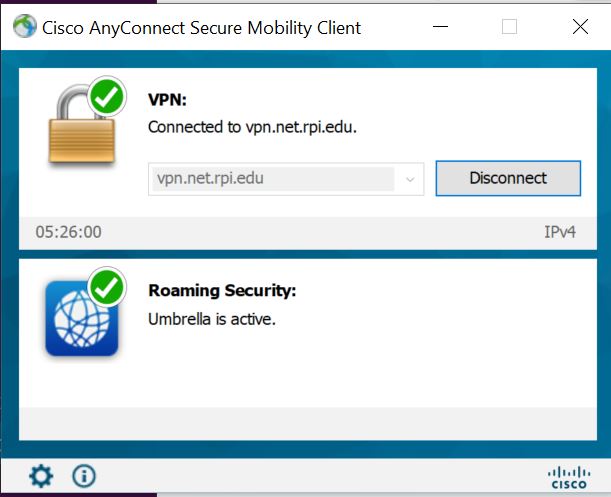 Image showing Cisco AnyConnect Secure Mobility Client
If you would like to opt out of this advanced level of security/protection please uninstall the client. You can Uninstall from the list of installed programs.
In Windows 10 in search bar type: appwiz.cpl
Highlight Cisco AnyConnect Umbrella Roaming Security Module - click Uninstall
Reboot your device.
How to login to the VPN with Multi-Factor Authentication:
https://itssc.rpi.edu/hc/en-us/articles/360061226812-VPN-logging-into-the-VPN-using-Multi-Factor-Authentication-with-Duo-Mobile-app
References
Additional information and uninstall options can be found at the below link:
https://support.umbrella.com/hc/en-us/articles/230901028-Umbrella-Roaming-Client-Uninstalling
Last Reviewed: 20-Jan-2023