Overview
This article is provide you the steps to troubleshoot network connection for WiFi and Ethernet port issues.
Procedure
Steps for Ethernet (hard wire network connection):
There is one active port per student. In a double there is usually Two duplex jacks. They are typically labeled "A, B & C, D" or "1,2 & 3,4". Normally A is reserved for a telephone (rarely used). B&D are network and C is a spare.

When you plug in your device, please wait at least one minute to give your device time to connect.

You should plug your device directly into the wall port and make sure it is setup to use DHCP and you should remove any DNS servers that are setup so your DNS will will use one of the RPI's DNS servers. <do we have an article we can refer to on how to check this?>

When you connect your device(s) via Ethernet, do the connectivity lights activate at all? And if so, what color lights, and are they steady or blinking lights?

Have you tested the connections with multiple devices, or only one?
Additional Steps for Ethernet and WiFi:
When you are having trouble connecting again, please go through the steps on the attached README_NetworkTroubleshootingSteps.txt file. After reading this file
Open hddig.zip file (located at the bottom of this article) will will open in file explorer and show three files:
readme.txt (shows the same information as in the README_NetworkTroubleshootingSteps.txt)
helpdesk.txt (shows a SAMPLE OF the IPConfig file that is the diagnostic file that Help Desk needs to determine the WiFi or Ethernet connection) The next step will show you how to run on your own device
Hddiag.exe - Double-click this file and choose "Run" if ask to have access to your device, say "Yes" and the Troubleshooting Options windows appears.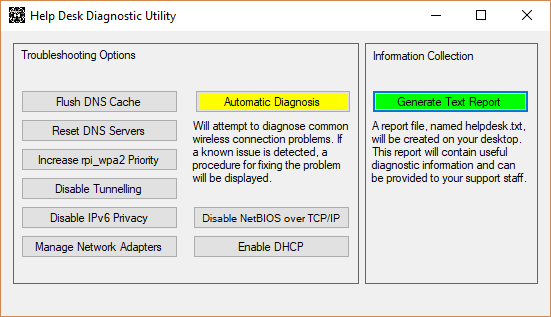 [Help Desk Diagnostic Utility - Troubleshooting Options window]
Click each area in the first column, i.e. click "Flush DNS Cache", then click "Reset DNS Servers", etc.
Click each area in the second column, i.e. click "Disable NetBIOS over TCP/IP" and then click "Enable DHCP"
Click from the third column "Generate Text Report" and this file will be placed on your desktop named "helpdesk.txt"
Attach this report (which is an IPConfig file) to your request. (This report will be read by the Help Desk and our Network Technicians) The results will help our network team isolate the network issue. You can run it when it's working and run it again when you are experiencing the issue. This can be done on both WiFi and Ethernet.
After we read the results we will recommend the next step.
Feel free to forward this diagnostic tool to anyone experiencing the same issue.