Overview
Matlab users may get a warning that their license is about to expire. Our campus Matlab license has been renewed through 8/31/2023. If you receive this message, please follow the instructions below to manually update your license.
Procedures
Please follow the steps below to address this issue. This is just a reminder to update the license information that pops up annually.
How do I reactivate my Matlab license?
Here are a couple of different ways to reactivate your Matlab License.
Reactivating Your MATLAB License File
Open MATLAB. If your MATLAB license has already expired, the activation client will launch and you can skip the next step.
Navigate to Help Menu > Licensing > Activate Software.
Choose Activate using Internet. ...
Once you have reactivated MATLAB, you will need to restart the program for it to update.
Once you have launched the MATLAB activation client:
Select "Activate automatically using the internet."
Log into your MathWorks account.
Select the license from the list of licenses you would like to activate.
Confirm the activation information.
Click "finish" to complete the activation process.
The above steps should work, however the below steps may work as well.
From within MATLAB, on the "Home" Tab, please click on Help, on Licensing, and then on Update Current Licenses.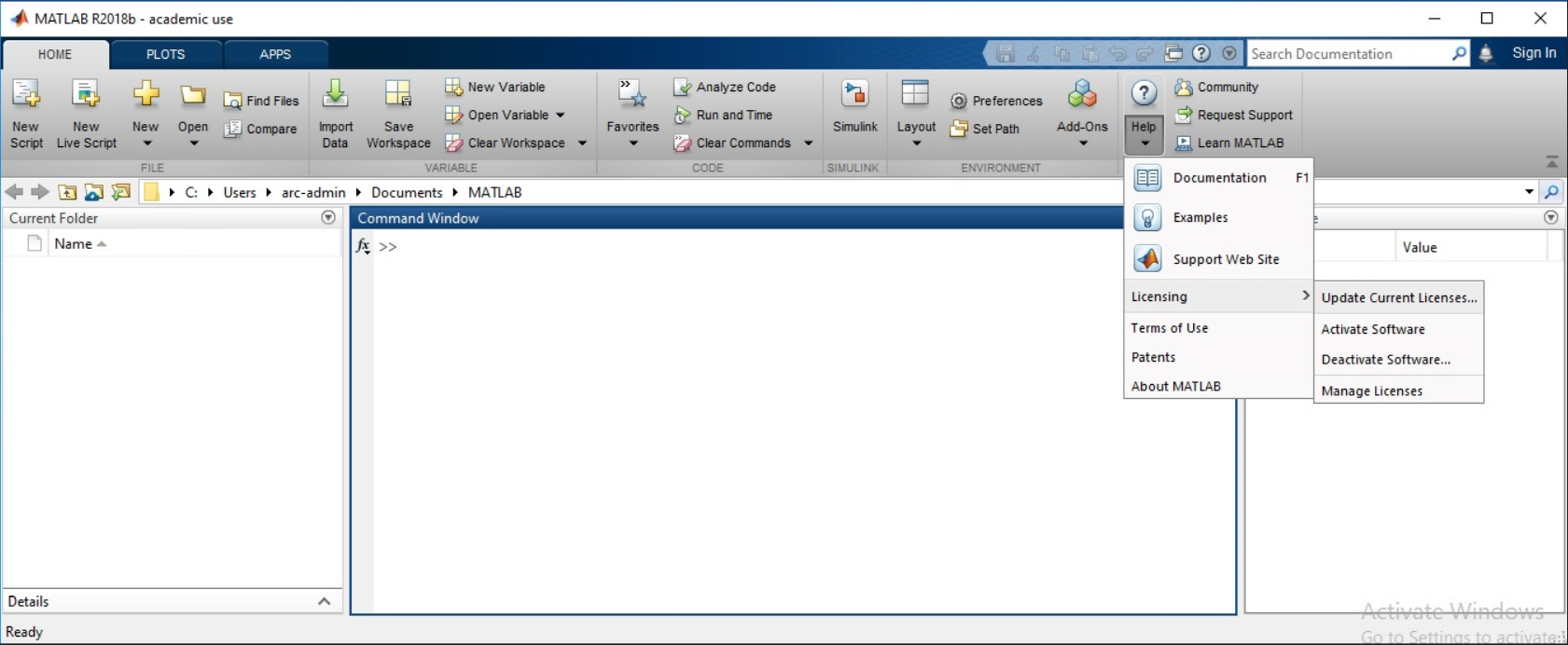 [Home tab showing help button selected, licensing selected and update current licenses selected]
Users should be able to select the license number in the pop-up window that appears, and update their license and then click Update.
**NOTE: you may have to run these steps again as an Administrator:
To open Matlab as an Administrator - right-click the Matlab icon from the Start Menu and choose More and then Run as administrator
Last Reviewed: 21-Aug-2019