Overview
Mediasite is unable to host files that are associated with presentations, however, the Link feature will allow a viewer of a presentation to view linked files which are hosted elsewhere, such as in Box.
Procedures
This procedure assumes in advance that the user has an active RPI Box account. References for the use of Box are included at the end of this article.
Log in to Box. Create a folder and upload your .ppt file, then generate a Share Link.

[A dialog box to share a file in Box. The Share Link toggle is selected, and the Copy button is highlighted.]


Navigate to the MyMediasite Portal and log in via Shibboleth with your RCS ID and password.
Locate the presentation you wish to attach the PowerPoint presentation to, and click on the name to open it. On the right-hand side of the page displayed, click Edit Details.

[The right-hand menu for a presentation in MyMediasite, with an arrow pointing to the option to Edit Details.]


At the bottom of the page, the Information tab will be selected by default. Scroll down until you see the Links section.

[The Add Link button from the Information tab in MyMediasite.]


Click the +Add Link button. Enter a Name and the Share Link you copied for your presentation. Click the Add New Link button when the information is correct.

[The Add Link dialog box. There is a note to add the link copied from box into the Link URL text box, and to click the Add New Link button to finish.]


At the bottom of the page, click Save to save the changes you have made to your MyMediasite presentation.

[The very bottom of the MyMediasite Edit Details page, with an arrow to highlight the save button, and a note to click to save changes.]
Users viewing the presentation will be able to click on the i for information and see any linked presentations or other files you may wish to provide.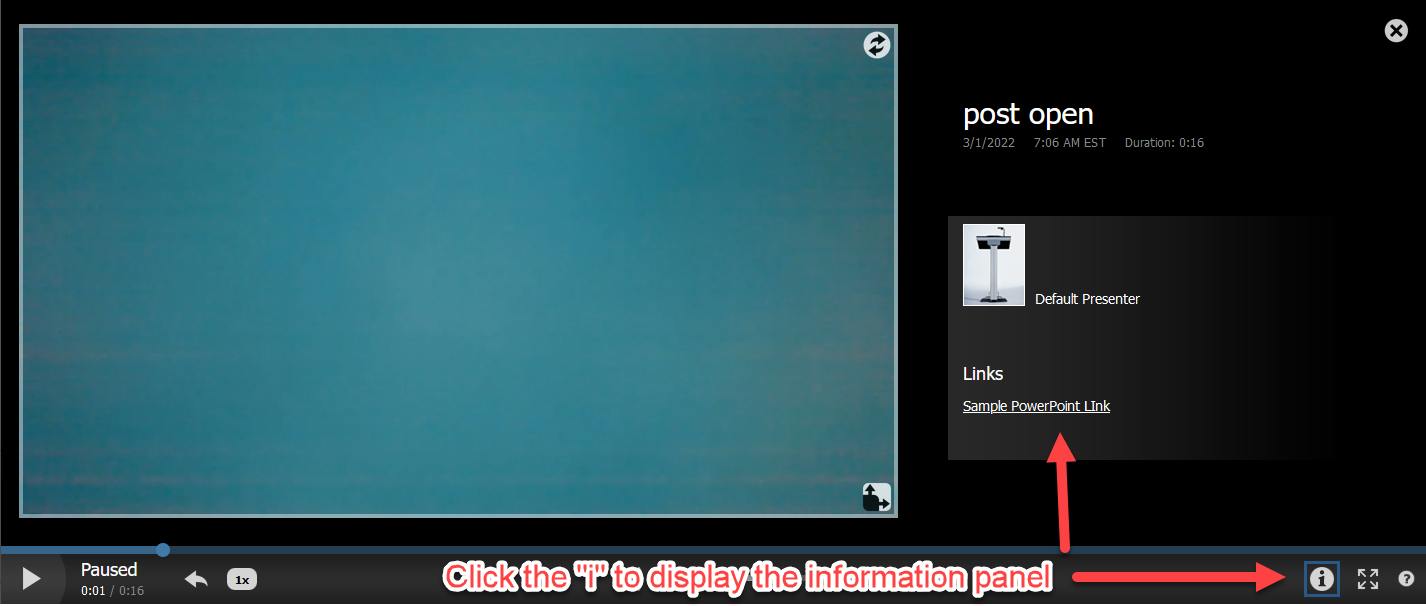 [A presentation being watched in Mediasite, with an arrow pointing to the lower right to highlight the "i" button, which has been clicked in order to display the information panel containing a link to a PowerPoint presentation.]
References/Links
Box Overview & Registering for an RPI Box Account (ITSSC Help Article)
Last Reviewed: 17-May-2022