Overview
This article will show how to import archives into Exchange Online on Mac OS so that they can be accessed in main email database on Exchange Online
Please note: If you are on the newest version of outlook, you will not be able to import files on Mac. Below are steps to revert to the legacy version of outlook so that you can import archives.
Procedures
1. Open Outlook
2. In the Navigation bar at the top, select Help -> Revert to Legacy Outlook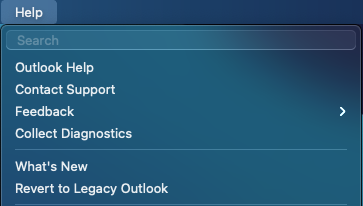 [Navigation Bar Help Section]
3. Click Revert
4. Once the Legacy Outlook is downloaded, you will see by the slider in the upper right hand corner of the Outlook Window, It will say New Outlook: Off

[Legacy Outlook slider]
5. In the Navigation Bar at the top, Click File and the Import and Export options will be available to you.
[Navigation bar when selecting file]
Importing
1. File -> Import
2. You will get a screen asking What you would like to Import, If its a MAC archive select the MAC archive file (.olm), If its a windows archive select the Windows archive file (.pst)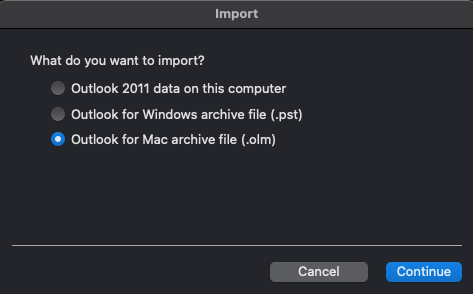 [What type of file do you want to import screen]
3. Select the File that you would like to import, click Import
NOTE: You do not have an option to import to a specific destination folder. The archive file will import into Inbox and respective folders/subfolders.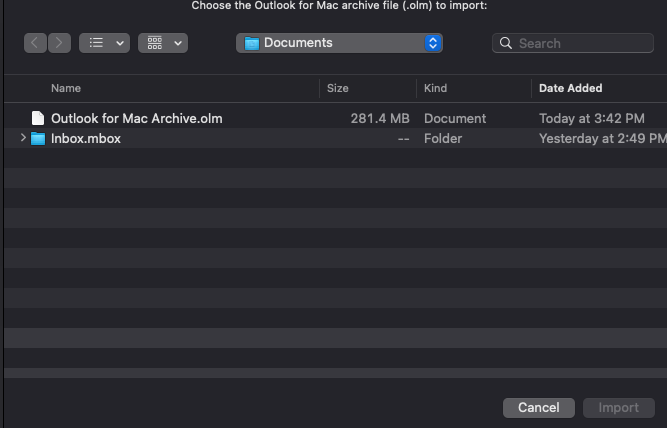 [Choose what file to import]
4. The file should import into MAC successfully, click Finish
[Data has been successfully imported]
References/Links
None at this time
Last Reviewed: